Housing
Our affordable housing communities provide more than just a roof over people's heads.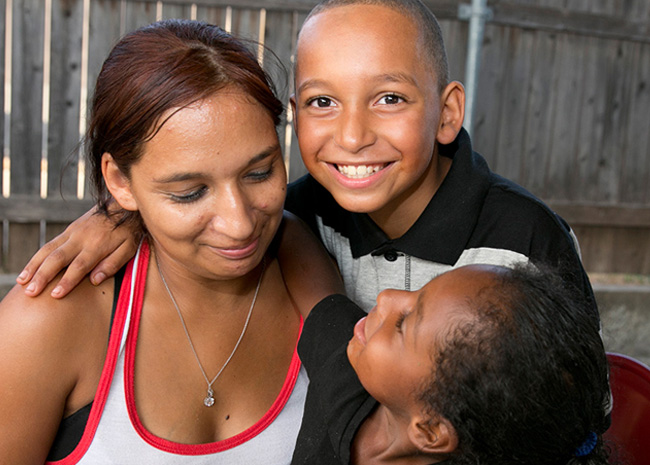 In response to Novel Coronavirus (COVID-19), Foundation Communities is maintaining essential operations and support services with modifications:
Children's Home Initiative applications can be sent to childrenshomeinitiative@foundcom.org. The Children's Home Initiative office is closed to the public until further notice.
En reacción al COVID-19, Foundation Communities está manteniendo nuestros operaciones esenciales y servicios de apoyo, con modificaciones:
Puede enviar las solicitudes para Children's Home Initiative a childrenshomeinitiative@foundcom.org. La oficina de Children's Home Initiative está cerrada al público hasta nuevo aviso.
---
We also offer a wide range of opportunities for our residents and neighbors to transform their lives through on-site support services in the areas of
education, financial stability and health.
Foundation Communities owns and operates 18 family communities in Austin and North Texas and 7 efficiency studio communities for single adults in Austin.
Benefits of Our Communities Include:
Family-friendly environments in close proximity to schools and public transportation.
Community Learning Centers with free after-school and summer learning programs for children and teens, as well as adult education classes like English as a Second Language, money management, and fitness and nutrition.
Commitment to green building practices and sustainability, including reduced utility bills and community gardens.
Meet Kristiana

A newly single mother struggled to find a decent and affordable place to raise her two boys. She found just what she was looking for at Sierra Vista. With support from Foundation Communities, she's able to provide a bright future for her family.
Meet Dalton
When Dalton found himself without a place to call home, sleeping under a trailer, he was unsure of his future. After seeking rehabilitation services at the Salvation Army, he had nowhere to go. Foundation Communities helped Dalton regain his dignity and find a new way of life.
Requirements for Living in Our Communities
We hope you will find a home with us.
Our apartments and duplexes are perfect for individuals
and families with low to moderate incomes.
The minimum and maximum income requirements vary by location.
To live at a Foundation Communities property you must:

Meet specific
income guidelines

Pass criminal and
credit checks

Have a good
rental history
WE'RE GROWING!
Opening late 2021: Laurel Creek, located in North Austin near Lamar and Braker, will be home to 88 low-income families, including many who are exiting homeless. Learn more.
Foundation Communities provides affordable housing for over 2,800 families,
including 228 formerly homeless children.
We also have 600 efficiency apartments for single adults.