Housing
Our affordable housing communities provide more than just a roof over people's heads.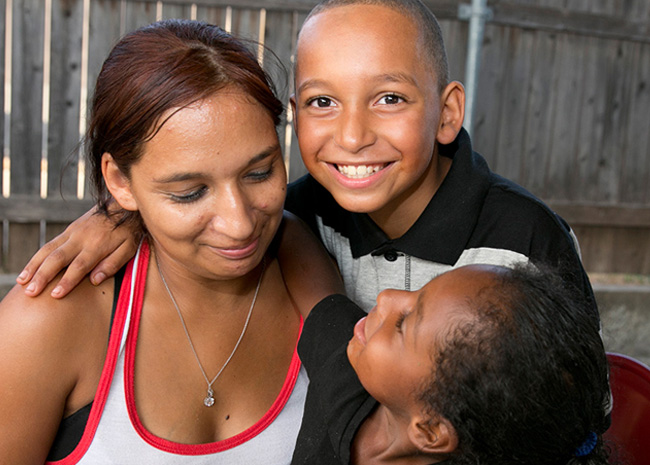 We also offer a wide range of opportunities for our residents and neighbors to transform their lives through on-site support services in the areas of
education, financial stability and health.
Foundation Communities owns and operates 16 family communities in Austin and North Texas and 6 efficiency studio communities for single adults in Austin.
Benefits of Our Communities Include:
Family-friendly environments in close proximity to schools and public transportation.
Community Learning Centers with free after-school and summer learning programs for children and teens, as well as adult education classes like English as a Second Language, money management, and fitness and nutrition.
Commitment to green building practices and sustainability, including reduced utility bills and community gardens.
Meet Allen

While painting houses, Allen fell off a ladder and broke his back. The injury put him in a wheelchair and the devastation and pain of it all made it difficult to keep a steady job. Allen was living in an abandoned shack before moving into Capital Studios downtown. At his new home, he has a circle of friends and critical support services right at his doorstep.
Meet Leslie
When Leslie and her three sons moved into an Austin homeless shelter, she felt like her world was crumbling. But as soon as she learned about Foundation Communities, everything changed. Since moving into M Station, Leslie has taken advantage of our education and financial stability programs. With our support, she's back on her feet and has big plans for the future.
Requirements for Living in Our Communities
We hope you will find a home with us.
Our apartments and duplexes are perfect for individuals
and families with low to moderate incomes.
The minimum and maximum income requirements vary by location.
To live at a Foundation Communities property you must:

Meet specific
income guidelines

Pass criminal and
credit checks

Have a good
rental history
WE'RE GROWING!
Construction is underway at Cardinal Point, a new family community in the Four Points area. We're also adding 20 apartments to one of our original communities for single adults, Garden Terrace, on William Cannon.
Foundation Communities provides affordable housing for over 2,800 families,
including 228 formerly homeless children.
We also have 600 efficiency apartments for single adults.