Housing
Our affordable housing communities provide more than a roof over people's heads.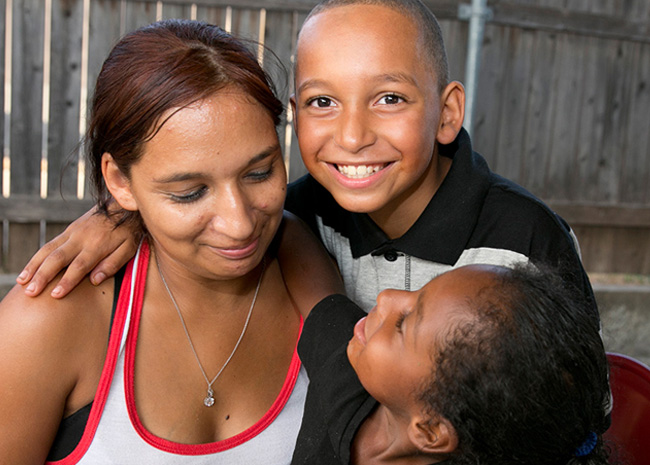 We also offer a wide range of opportunities for our residents and neighbors to transform their lives through on-site support services in the areas of
education, financial stability and health.
Foundation Communities owns and operates 27 affordable apartment communities, 19 for families in Austin and North Texas and eight efficiency studio communities for single adults in Austin.
Benefits of Our Communities Include:
Family-friendly environments in close proximity to schools and public transportation.
Community Learning Centers with free after-school and summer learning programs for children and teens, as well as adult education classes like English as a Second Language, money management, and fitness and nutrition.
Commitment to green building practices and sustainability, including reduced utility bills and community gardens.
Meet Kathy

Following a divorce Kathy and her son struggled to find housing they could afford. Through the CHI program, they found a home at Sierra Ridge apartments, as well as a variety of free services including a Learning Center, case management and healthy food pantries.
Meet Leaf
Leaf was a college student when he was struck with mental illness. A short time later he was homeless and his life was out of control. Medical treatment put him on the path to affordable housing at Spring Terrace and that healthy environment has him thriving and helping others.
Requirements for Living in Our Communities
We hope you will find a home with us.
Our apartments and duplexes are perfect for individuals
and families with low to moderate incomes.
The minimum and maximum income requirements vary by location.
To live at a Foundation Communities property you must:

Meet specific
income guidelines

Pass criminal and
credit checks

Have a good
rental history
WE'RE GROWING!
Laurel Creek opened in North Austin in late 2021 and is home to 88 low-income families, including many who exited homeless. Learn more.
Foundation Communities provides affordable housing for over 2,800 families,
including 228 formerly homeless children.
We also have close to 1,000 efficiency apartments for single adults.